Merry Christmas Da Nang- How the Grinch Found Christmas
Merry Christmas Da Nang:
Expected time:
Saturday, the 1st of December
2:30pm-3:30pm: First Show
Sunday, the 2nd of December
2:30pm-3:30pm: Second Show
6:30-7:30pm: 3rd Show
Merry Christmas Da Nang is a growing cultural exchange event now in its seventh year. Spreading the Christmas spirit, this unique holiday tradition brings more than 100 cast and crew members representing nations from six continents and thousands of patrons to the beautiful downtown Trung Vuong Theater.
Music, dance, and drama come to life with dazzling scenery and costumes. While much of the program is in English, Vietnamese subtitles appear on two large screens and sign language interpretation is provided to a section of seats reserved for deaf guests.
Each year, Merry Christmas Da Nang presents the wonder and truth of Christmas through imaginative and original scripts. This year How the Grinch Found Christmas will charm and fascinate all ages with its humor and depth of meaning.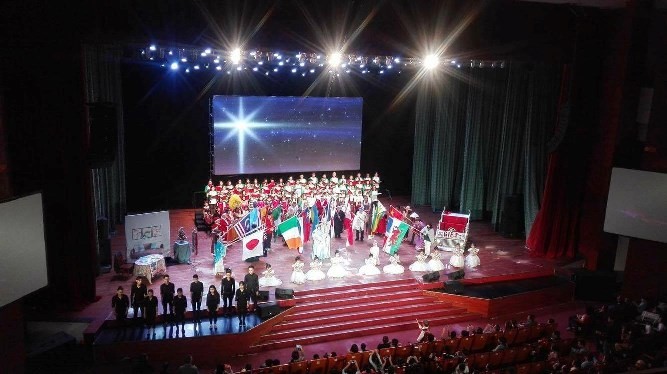 TEH DAR- A CAPTURE OF HIGHLAND SPIRIT
Teh Dar in K'ho language means "going circle", which symbolizes the continuation and preservation of the sustainable cultural values. With the combination of bamboo cirque and enchanting tribal music, Teh Dar brings to the embodiment of colorful highland culture, which wins the hearts of art lovers.
In 70 minutes, nature, culture and human in Central Highland is vividly expressed by the illustration of the daily activities such as hunting, farming, couple dating, dancing and singing on village festival. Especially, this story is told by the language of bamboo cirque, of movements, of acrobatics. The show guides audiences to the world of majestic forest, in the tribe with hidden mystery. The beauty of human and culture is the most outstanding pattern that Teh Dar conveys.
Overwhelming, cryptic but romantic, many shades of feeling are evoked with Teh Dar's performance. This is definitely the wondrous must-see experience in the list of Vietnamese cultural exploration, especially when you can enjoy the show in the iconic moon-shaped big top theater.
Teh Dar will soon travel to perform in Europe by end of 2018, don't miss the chance to experience the show right now at Lune Performing Center Hoi An everyday, except Monday and Thursday, at 18:00.
Show information: https://www.luneproduction.com/teh-dar.